What the Heck is Exuma Anyway?
According to the Bahamas Minister of Tourism and Aviation, Dionisio D'Aguilar, "The sapphire blue waters of Exuma have wowed astronauts from space who declared them to be the clearest and most beautiful in the world." I believe it! The spectrum of blue and greenish hues of the waters engulfing the Exumas ranges from sapphire to emerald turquoise to deep cerulean. The colors of the ocean are like none seen before.
These "cays" are islands surrounded by crystal blue and green waters, white sand beaches, and an uncrowded, undeveloped, laid back atmosphere. The Exumas are renown for their sapphire-blue waters—waters so stunning, their brilliant colours are visible even from outer space. This chain of 365 islands is home to secluded footprint-free beaches, deserted cays, and ultra-exclusive resorts. Here, nature outnumbers man, coastlines remain flawless, and private islands play host to some of the world's most famous stars—including a group of four-legged local celebrities.
The Exumas island chain is divided into three major areas: Great Exuma, Little Exuma, and the Exuma Cays. Within the cays, a few stand out as must-visit destinations. Island hopping through the Exumas Cays by boat is a truly extraordinary experience. Cruise the crystal clear waters visit the swimming pigs, snorkel an underwater cave, and pet friendly nurse sharks.
Imagine laying on an white sand beach listening to the waves of crystal clear water break at your feet. The sun is beaming down, but the cool ocean breeze is enough to make it feel nearly heavenly. If this sounds like paradise, you must visit the Exumas.
Some of the "cays" are privately owned by famous stars like John Depp who fell in love with this area of the Bahamas while filming Pirates of the Caribbean and illusionist David Copperfield who was so enamored he purchased Musha Cay, a 150-acre piece of paradise that has been transformed into a luxury resort costing just under $40,000 per night.
The Exumas are a laid back archipelago where the time seems to move slower. It is much different than Nassau, where the cruise ships go. That is a completely different vibe with Senor Frogs and lots of noise.
1.The Clearest Water In The World
360 islands make up the Bahamas and each and every one of them is surrounded by crystal clear and almost impossibly blue water. It looks like the ocean was filled with Bahama Blue bottled water!! Each beach is more beautiful than the next.
From eating Bahamian cuisine to snorkeling a sunken plane to swimming with pigs and more, we'll be sharing the best bucket list worthy experiences you can find on your adventure in Exuma!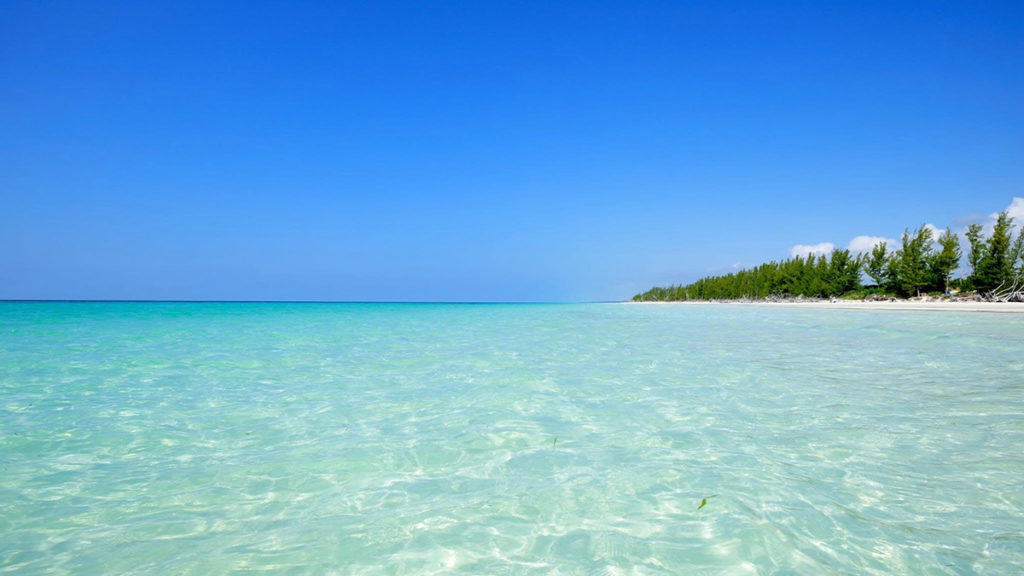 2. Visit An Island Of Swimming Pigs
There are many rumors as to how these pigs learned to swim. While we aren't sure which legend is true, Big Major Cay is definitely an interesting experience that you CANNOT miss when you visit Exuma Bahamas!
3. The Snorkeling Is Incredible
The water in Exuma is so clear you can literally put on some goggles and snorkel anywhere you want. They even have a National Park that is called The Aquarium. You can see down 12 feet or more to the bottom. Between the colorful fish, sea slugs, turtles, starfish, and sharks, your snorkeling adventure won't have a dull moment.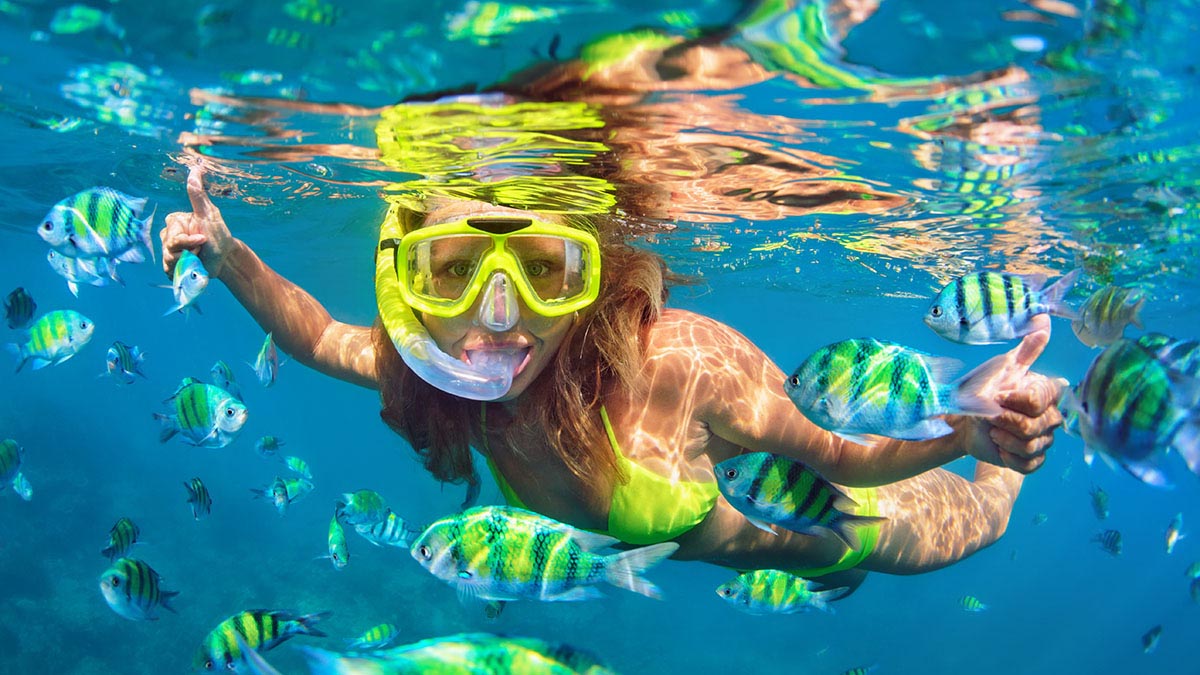 4. Spend A Day At The Mile-Long Sandbar
On Big Farmer's Cay, the Mile-Long Sandbar got its name for being… well, one mile long. The amazing thing about this sandbar is the water is only knee deep, so you can walk for miles into the ocean (this makes for some excellent seashell hunting). Also, makes for some really nice selfies. Just saying.
5. Swim with the Sharks
While it might seem terrifying to swim with sharks, the nurse sharks at Compass Cay are actually quite harmless. Nurse sharks are slow moving bottom feeders who prefer fish, shrimp, and squid. They will even let you pet them. Don't try to feed them and don't let fear stand in the way of an adventure!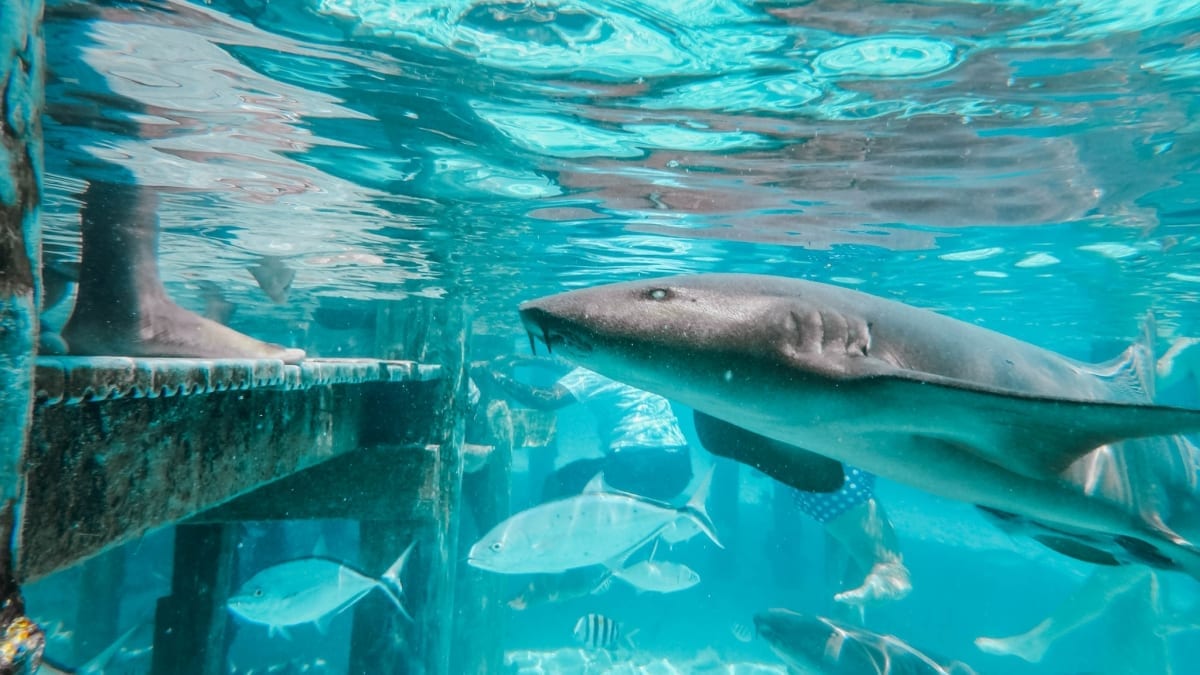 6. Hang Out with the Iguanas
On Bitter Guana Cay or Allen's Cay, see the brightly colored Rock Iguanas that are only found in the Exumas. They will happily pose for selfies if you give them some vegetables. Ladies beware! They may confuse your red toenails for fruits, so watch your toes because they hungry creatures are not shy!