25 December, 2022 – 2 January 2023 – Family of 4
It's rare that a company actually lives up to their motto, but we did arrive as guests and leave as friends. Tom and Betsy could not have taken better care of us, from creating an itinerary that was varied and exciting for our 11 and 13 year old grandkids, to providing amazing meals for us, despite our vegetarian gluten-free diets. Betsy went way above and beyond to prepare for our stay and never failed to create something wonderful at every mealtime. Their first mate, Nicole, is a hard working young woman who made the trip especially fun for the kiddos, accompanying us on every snorkel stop, GoPro in hand, to supply us with fabulous memories. The boat is maximally comfortable, the cabins much more like staterooms than any other catamaran we've ever sailed on, and perfectly appointed with every notion we could imagine needing. We've sailed with several companies in many places around the globe, both crewed and bareboating, so this is saying a lot. And – there are not adequate words to describe the additional joy from the presence of the extraordinary master-at-arms, Henry Ford. Best boat dog ever!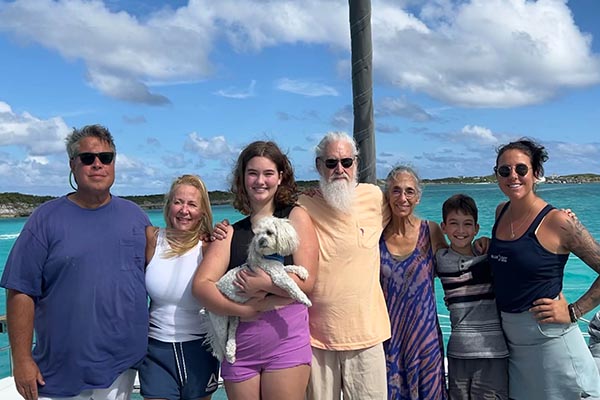 January 14-19, 2023 – Family of 5
My family of 5 chartered the Blue Cat for 4 night. My wife, three daughters and myself loved every minute of it. This is the only way to experience the true beauty of the Exumas. Everyday we went on amazing adventures, ate great food, gazed at billions of stars and got some of the best sleep I've gotten in years. The crew was there to accommodate our every need. The yacht is spacious and the state rooms are beautiful. Having the freedom to explore when, what and for how long was awesome! My daughters really enjoyed using the water scooters to snorkel, I enjoyed the many secluded beaches we explored and my wife enjoyed being on the water watching the sunsets. I cannot put into words the beauty we saw and experienced on this charter. After the charter ended we rented a house on a beach in Little Exuma for a week and it was wonderful but not the same as the yacht. Exuma is like no other place on earth and experiencing it by private yacht charter, Blue Cat Charters, is the best way.