Get the most out of your boating experience by bringing your best friend along for the adventure. We offer pet-friendly yacht charters that include housing and amenities, plus all the swimming your dog could desire! We can assist with their health paperwork and import permits as well, giving you peace of mind that Fido won't have to stay home.
Our playful First Mate, Henry Ford, will be there to ensure all seagoers enjoy their experience and make new friends. Blue Cat Charters gives your pup the opportunity to sniff out adventure of all sorts!
We have been lucky enough to bring our dog, Henry, on our adventures, many of which involved pet visas. The task of getting a pet into a foreign country should be taken very seriously because if the paperwork is not completed correctly, he/she will be denied a visa. But don't panic. There is help.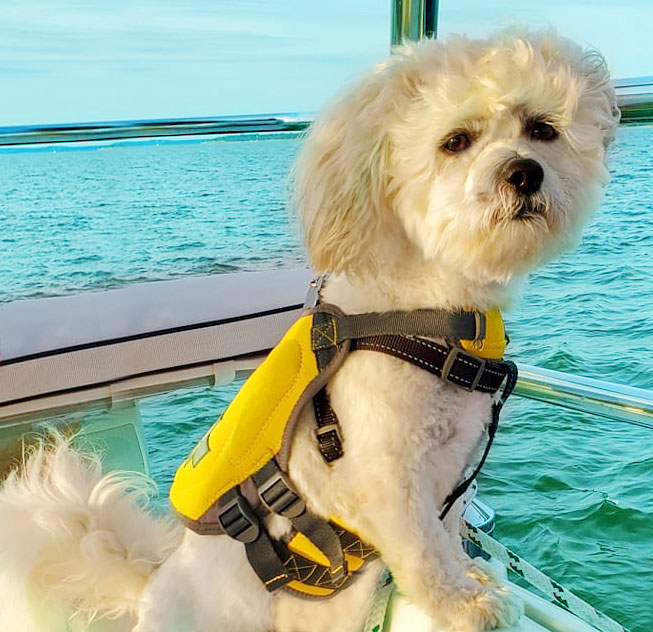 The Bahamas pet visa is one of the trickiest to navigate. The Bahamas Department of Agriculture Pet Import Permit is not available to be processed online, and payment must be made by cash or international money order, either in person or by mail. But don't worry, we can help.
Your dog must also have a microchip from their approved list and have current vaccinations. And, you must visit a veterinarian the day before travel to get a Health Certificate and a negative floating fecal test. These two items cannot be done earlier and do have to be done at the last minute.
Microchip
The Bahamas requires all imported dogs to be microchipped. If you are visiting other countries in the Caribbean we recommend getting your dog microchipped BEFORE their required rabies vaccine.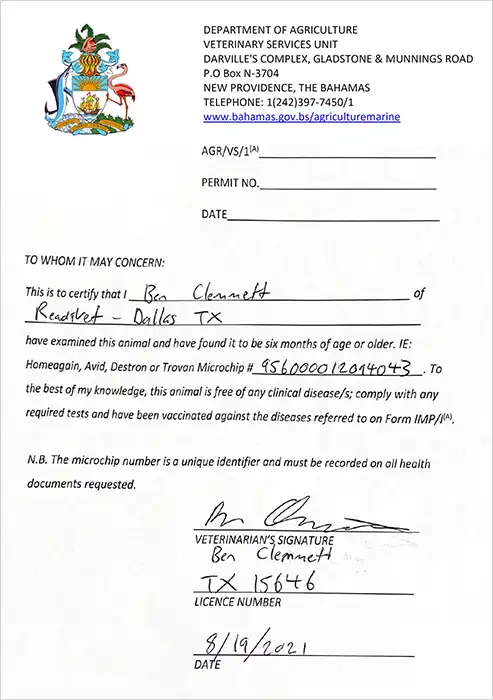 Vaccines (*New Requirements*)
The next thing you need to worry about is when your dog last got his/her Rabies vaccine. The vaccine cannot be less than 30 days old. So, if your dog is almost up for renewal, plan accordingly. The vaccine must also be in good standing status for at least two months after your expected arrival.