Great Exuma is often referred to as "Exuma". Georgetown is the capital and has the best airport in the Exumas with direct flights to the US and Canada. Georgetown has plenty to keep you busy. You'll find some of the most beautiful beaches here. Both snorkelers and divers will enjoy exploring the many underwater caves and coral gardens. Activities such as poolside parties and live bands keep both visitors and locals entertained throughout the island.
In the past, pirates used Georgetown's deep-water harbor during the 17th century and the "plantation aristocracy" from Virginia and North and South Carolina settled here in the 18th century.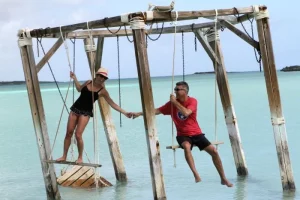 1. Coco Plum Beach is a protected beach with no waves. It is simply breathtaking. The water is crystal clear with ever-changing shades of turquoise and blue and almost lavender. At low tide, the pink and cream-colored sand bars pop up out of the ocean. You can walk several hundred yards into water only two feet deep, or less. There is a rustic, wood swing structure built in the water about 30 feet off shore. It is an Instagram dream. It looks like one of those romantic photos of ocean swings with a beautiful young woman swinging with her long hair flowing behind her that are posted all over Instagram.
2. Feed the Pigs. Here's a secret … there are actually two spots to swim with the pigs. (1) The original spot on Big Major Cay, also known as Pig Beach, and (2) on a Boat from Exuma Point Bar and Grille. Exuma Point Bar and Grille is located on yet another gorgeous beach. There are lounge chairs for relaxing. There is a huge covered deck and a restaurant serving lunch and dinner. For $50 per person, Exuma Point Bar and Grille will run you across to their pig island to feed and swim with the pigs. Before we went, a local suggested we bring a loaf of bread and carrots to give the salt water oinkers something to munch on. Exuma's humongous porkers are just interested in a little chow. Offer them some food, they will wade into the water and be your buddies.
Are they dangerous? I'm sure it can happen if you piss off a pig, or scare them, or maybe if they mistake you for a loaf of bread in a bikini. If that happens, just splash water in their faces and they will go away. And, if you are really worried about becoming a bacon bite, just stay in the boat.
But definitely, watch out for the swine poo! We don't think the pigs really swim. But, their turds really do float.
Visiting Exuma's famous swimming pigs is a unique adventure, if not a strange phenomenon, plus when you return home and someone asks, "Did you swim with the Pigs?" You can say that you did!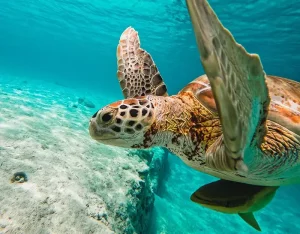 3. Swim with the Sea Turtles. The beach at Hooper's Bay is a cove sheltered by Stocking Island. It is a white sand beach approximately two miles north of Georgetown. Upon arrival, wade into the water, or swim with your snorkel gear, and the turtles will come right up to you. It's really cool. There is something very tranquil about these big and small turtles casually swimming around you.
Be aware: there is a serious issue with feeding the sea turtles. Many people think it is OK, but it's not. DON'T FEED THEM! It will kill them. Sea turtles eat sea grass, which sustains their slow growth and shell development. Feeding them conch causes them to grow too fast in their shells, which eventually causes them to die. Just swim around with the turtles, snap a few pics, and enjoy their tranquil existence. Help assure that the sea turtles will be around for 100's of years more so future generations can also enjoy their beauty.
4. Cocktails with a View. Haulover Bay Bar & Grill is practically right on top of the ocean. Sip a Bahama Mana cocktail while viewing the breathtaking turquoise waters. They do have indoor seating, but the outdoor patio is where it's at. The water is shallow here with sand bars and very very blue.
5. Go Conch Diving. Great Exuma has so much conch… why not dive for your lunch? We'll cook it of course or we can chop it up into a delicious conch salad… Bahamian-style, fresh from the sea.
6. See the Stars. Just north of Great Exuma, we can reach for the stars (literally!). Locals call the water surrounding the first few cays the Starfish Reserve, where tons of giant starfish dot the shallow ocean floor. Though it's not technically a protected area, starfish here are abundant. As long as you don't keep them out of the water for too long, it's okay to pick them up. Some of them are bigger than your hand! Leave them there though and only take pics and your memories.