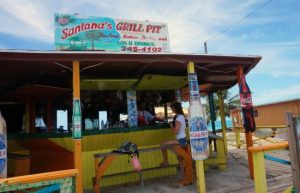 Scenes from two Pirates of the Caribbean movies were filmed on the southern end of Little Exuma—only 12 square miles—and on one of the little cays just offshore. The movies' stars, Johnny Depp and Orlando Bloom, often roamed around the island and ate at Santana's Bar & Grill, an open-air beach shack, the island's best-known restaurant.
Their deep-fried lobster is amazing! They have an assortment of seafood dishes, plus chicken and barbeque ribs. They have a great view by the beach with occasional sharks in the water.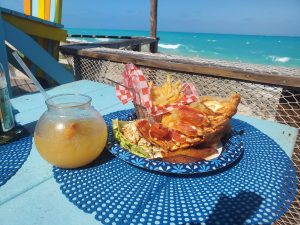 After Santana's, next door, we can grab a rum cake at Mom's Bakery. Mom's Bakery cake is not just good, it's spectacular! They only have a options to choose from, but that just means it's definitely made from scratch. Get the Bahamian to-die-for rum cake that crumbles to the touch and melts in your mouth? Your won't be disappointed. If mama herself is there, ask her for a selfie together.
But that's just two of the reasons people are drawn to this lovely island connected to Great Exuma to the north by a narrow bridge. Rolling green hills, purple morning glories spilling over fences, small settlements with only a dozen houses, and glistening white beaches make a romantic afternoon escape. Near Williams Town is an eerie salt lake, still and ghostly, where salt was once scooped up and shipped away. You can hike old footpaths and look for ruins of old plantation buildings built in the 1700s near the Hermitage, but you'll have to look beneath the bushes and vines to find them. Some other sites to see are:
On one of Little Exuma's highest hills are the remains of an old pirate fort. Several cannons are located nearby, but documentation is lacking as to when it was built or by whom. (Pirates didn't leave too much data lying around.)
Little Exuma's best beach is Tropic of Cancer Beach (also known as Pelican's Bay Beach); it is a thrill to stand on the line that marks the spot. You're officially in the tropics now.
One of the communities on Little Exuma is called Ferry, so named because the two islands were linked by a ferry service before the bridge was built. Ask around about visiting the private chapel of an Irish family, the Fitzgeralds, erected generations ago.
Another site is Pretty Molly Bay, site of the now-shuttered Sand Dollar Beach Club. Pretty Molly was a slave who committed suicide by walking into the water. The natives claim that her ghost can still be seen stalking the beach every night.
The Hermitage is a plantation constructed by Loyalist settlers. The last surviving example of the many that once stood in the Exumas, it was originally built by the Kendall family, who came to Little Exuma in 1784. The family established their plantation at Williamstown and, with their slaves, set about growing cotton. But they encountered so many difficulties having the cotton shipped to Nassau that, in 1806, they advertised the plantation for sale. The ad promised "970 acres more or less," along with "160 hands" (referring to the slaves).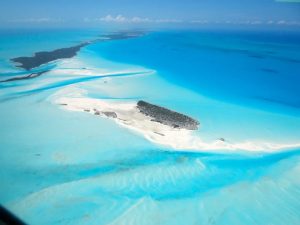 With the easy, laid-back atmosphere native to the Bahamas, Little Exuma has stunning scenery while still being close to the capital of George Town. Many locals and tourists alike make their way to enjoy kayaking, sailing, bonefishing, cave-diving and of course, sunbathing on the many beaches. You can even go snorkeling and visit the remains of a 200-year-old wreck, right offshore in about 6 ft of water. We appreciate Little Exuma for its seemingly remote and secluded location, but love the feeling of having restaurants featuring tasty local fare, tourist attractions offering historical information and activities and quaint shops.