Easily reachable by boat from Elizabeth Harbour, Stocking Island has some of the finest white sand beaches in The Bahamas. Snorkelers and divers love to explore the island's blue holes, coral gardens and undersea caves. The Island is also home to Stromatolites, said to be the oldest known macro-fossils on the planet, found on the Atlantic-side beaches.Stocking Island is a small, long, narrow island off the port of George Town, Great Exuma Island, The Bahamas. The island features beaches and several resorts.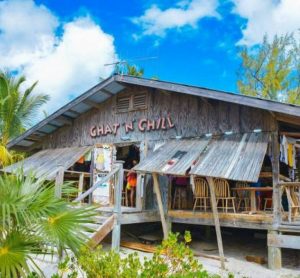 Stocking Island is lightly inhabited, with a population of only 10. It is located 1 mile from Government Dock, George Town, across the harbor. The long narrow island protects George Town from ocean waves, creating a natural harbor. There is one high hill, known locally as the Beacon, which is capped with an old, unused gas beacon. The glass top portion is missing, but the concrete pillar is visible for miles. The central part of Stocking Island features an inlet known as Hurricane Hole where sailboats anchor for protection during storms, and which features a blue hole.
CHAT AND CHILL
Opposite Hurricane Hole is a sandbar beach called the Spit where a Bahamian business has built a popular bar/restaurant accessible only by boat known as Chat and Chill. With its open-air bar, outdoor grill, volleyball beach and waterside conch-salad shack, the place feels destined to become a Jimmy Buffett song.
You can't swim with the pigs at Chat 'N' Chill, but you can eat them! They have music, island drinks and the BEST roast pork you've ever tasted in your whole life every Sunday from noon to 7 p.m. (or whenever they run out). The seasoned, smoked pig is served Bahamian style, and comes with a couple of side dishes. On Sundays, they also have beach church at 9am.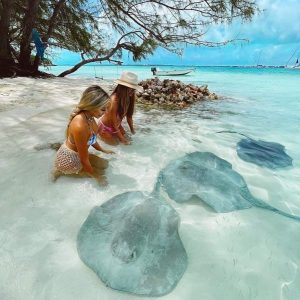 You can also swim with the stingrays. These lovable sea creatures will eat conch scraps, let you pet them, or take a selfie with them.
FRESH CONCH SALAD
Experience a Bahamian tradition and watch as conch is taken straight from the sea, cracked, and broken out of its natural shell right before your eyes. The conch man then skins the conch, washes it, chops it up and prepares it with locally grown onions, tomatoes, sweet peppers, goat peppers and Bahamian sea salt for your conch salad. Top it off with a squeeze of fresh lime and orange to tantalize your taste buds … YUM! If you are daring, you will also have a chance to "swallow the pistol," a part of the male conch. "Swallowing the pistol" is an old island folk remedy for ED and fertility issues that the locals swear is the "Bahamian Viagra" and "booster for the rooster!"