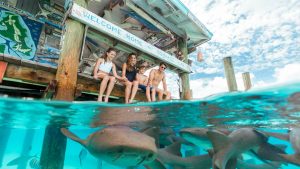 Staniel Cay is boutique resort with intimate bungalows, one villa, and a full-service marina. Staniel Cay is a good starting point because it has a nice marina and is right next to several of the main attractions for an Exuma Yacht Charter trip. Staniel Cay is also the place to take care of any errands. They have great grocery stores to reprovision and a laundry mat. Stop by the marina for some rum punch and make some new friends.
And after exploring our turquoise playground, you will surely work up an appetite! Whether you are in the mood for a great bottle of wine and a four-course meal or simply an appetizer and a frosty beverage, then the island bar has you covered! Good food, good drinks, good times are all awaiting you at Staniel Cay Yacht Club.
Staniel Cay is a small island with about one hundred full-time residents, which means that there aren't many options when it comes to dining. However, rest assured that you'll be able to meet all your basic needs and eat some pretty excellent food here.
Dining on Staniel Cay
Staniel Cay Yacht Club (SCYC) is the most popular restaurant on the island. Have lunch at the Sea Level dining room and enjoy a splendid view of Exuma. Or dine in the authentic atmosphere of the Captain's Lounge where guests have been served since 1956. The restaurant's deck is a great place to enjoy al fresco dining and sunset cocktails while admiring the view. Make sure to make a reservation on time if you plan on enjoying the four-course dinner menu. Dinner ranges from $23-42, while beverages start at $3.
Big Dog's Bar & Grill. Stop by for a beer and traditional Bahamian "Chicken Souse" (soup made with chicken, potatoes, allspice, pepper, onion, and lots of appetizing spices) or whatever is the chef's choice for lunch that day.
Taste and Sea Café. Enjoy delicious Bahamian dishes such as grilled chicken, crack conch (filet-fried conch), lobster, etc. while watching beautiful turquoise waters. Taste & Sea is open for dinner 4 nights a week and is definitely budget friendly as well as authentically local.
Shopping on Staniel Cay
There are three grocery stores in Staniel Cay as well as marine supply store, a clinic, post office, church, library, and a selection of vacation accommodation. Three retail stores on the island where you can buy fresh groceries are: The Blue Store, Pink Pearls, and Isles General. However, the stores are closed in the evenings and on Sundays, so keep that in mind when planning your shopping on Staniel Cay.