Musha and Rudder Cut Cays are two of several private cays in this area owned by world famous magician David Copperfield. Musha Cay is operated as an exclusive resort where the entire cay is for an individual or a small group of guests for a fixed price. There is a private helipad at the SW corner of the cay.
Since it is a private island, we have to stay in the water. Interesting note… you can only own an island in the Bahamas down to the high tide line on the shore… so, technically anyone can walk the beach as long as your feet are in the water…..
This stunning place, the beach with its palms, the cliffs and a spectacular cave and sand bar rents for a minimum if $50,000 per night. We can just skip that and walk on the beach. Or we can dive down and see the mermaid on a piano.
David Copperfield installed this underwater sculpture off the SW coast of Rudder Cut Cay to amuse his resort guests. The undewater stainless steel sculpture consist of a mermaid lying in attentive rapture on the seafloor near the bench of a baby grand piano with open lid. Currents are quite strong in the area making it a challenge to see the sculpture in the crystal clear water.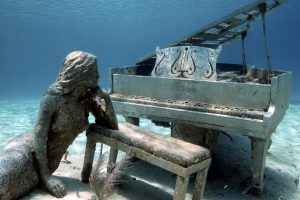 Swimmers will find Staniel Cay Tiursa life-sized mermaid sculpture lounging on the ocean floor by the bench of a baby grand piano. Since it is 12 to 15 feet below the surface, it can be a bit difficult to spot when the current stirs up the sand and clouds the water. It makes discovering her on a clear day feel all the more magical. Snorkelers capable of holding their breath for a while can swim down and pose on the bench for a fantasic selfie.