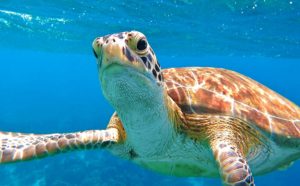 Farmers Cay is a small island with a population of about 50-70 with only a couple of roads (and a nice airstrip). There are only a few roads there, we they still manage to have restaurants: Ty's Sunset Bar and Grill and the Ocean Cabin Restaurant & Pub. As with many smaller cays in the Bahamas, there is no menu which is a bonus because you can order what is truly the freshest catch!
The water on Little Farmer's Cay is beautiful and crystal clear, but the amazing attraction is the turtles in the shallow harbour. This tiny cay has a population of 66 sea turtles.
Little Farmer's Cay is also home to abundant wildlife, including exotic birds, dolphins, sharks and tropical fish. Deep sea caves and coral reefs are nearby for world-class diving and snorkeling.
Having the sea turtles come up and take conch meat right from your hand as you stand in four feet of unparalleled 'Exuma blue' water is a day you won't forget!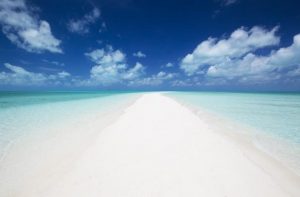 Just south of Big Farmer's Cay, a stretch of pure white sand emerges from the clear blue water at low tide. It is commonly known as "Mile Long Sandbar." This stretch of sand goes on for "a mile". It is perfect for shelling, sunbathing, and picnicking. Most days you will have this "private" beach all to yourself.
If you are on your honeymoon, we strongly recommend coming here. You can only get here by boat. It's so private & romantic, (most days) no one can see you for miles! Perfect photo opportunity.